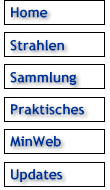 Blue Cap Tourmaline; Sapo Mine - Minas Gerais - Brazil
Stunning 7.6 x 2.1 cm (59.2 gram) blue cap multicolored crystal of tourmaline from the Sapo Mine, Pederniera, Minas Gerais, Brazil. The colors in this crystal are striking as the deep lilac color grades to yellow to an aqua green to a deep indigo blue cap comprising the flat termination. This specimen is from a find made this past year. Blue cap tourmalines are quite rare with the best crystals ever found coming from Pala at the Tourmaline Queen Mine. These crystals have a deeper blue color than those! $1,000 Trinity Minerals Company



Letzte Änderung dieser Seite: 03.11.2020 01:58:07
E-Mail an den Webmaster
© Copyright 2021 by Olivier Roth, Switzerland. Alle Rechte vorbehalten.