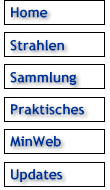 Ausgesuchte Stufen aus Online-Shops

Bitte beachten Sie, dass diese Stufen im Jahr 1999 angeboten wurden und inzwischen verkauft sind.

Selected Specimens from Online Shops
Please note: the shown specimens were offered in 1999 and are sold since then.




Letzte Änderung dieser Seite: 03.11.2020 01:58:07
E-Mail an den Webmaster
© Copyright 2021 by Olivier Roth, Switzerland. Alle Rechte vorbehalten.