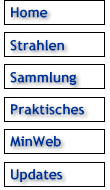 Quartz with Chlorite inclusion; St. Gotthard
Robert Ferguson.
Cabinet (4.5 x 4 x 3 inches). A superb quartz cluster, this is from St. Gotthard in Switzerland, NOT from Arkansas! It is very rare to see European quartzes of this quality and clarity, and again we see that Ferguson had both good taste and access to the best. A small bit of chlorite includes and colors the termination of the main crystal. Overall, one of the more attractive pieces in the collection. Price $500.00 The Arkenstone: The Ferguson Collection



Letzte Änderung dieser Seite: 03.11.2020 01:58:07
E-Mail an den Webmaster
© Copyright 2021 by Olivier Roth, Switzerland. Alle Rechte vorbehalten.